Soni Sinha from
Soni's Food
offered to try out the GitaDini Teapan. She used it for making a wonderful Masala Chai and was kind enough to let us share her review and the recipe for this great winter warmer!
All text and images are curtesy of Soni Sinha, here is the link to the original post:
http://www.sonisfood.com/2013/01/masala-chai-and-a-teapan.html
MASALA CHAI
A week ago I was contacted by a company called GITADINI.
They wanted me to review their 2 Quart Straining Saucepan/Teapan. For an avid tea drinker like me, reviewing this Teapan seemed like the perfect thing to do and the moment it arrived, I couldn't wait to make my next cup of tea. Its made of Stainless Steel that is non reactive and boils efficiently with a capsulated bottom to evenly distribute heat.The built-in strainer strains tea leaves,tea bags,sauces,vegetables,pasta without needing a separate colander or strainer. Its perfect for boiling water,heating milk or tea,cooking pasta or vegetables,melting butter or chocolate and blending and straining sauces.
Being an Indian, a nice warm cup of Masala Chai first thing in the morning especially in these winter months is almost a necessity!! I started by pouring some water along with some spices into this pan. The first thing you notice is the long comfortable grip handle that makes lifting or pouring so much easier. Once my tea was ready, I was amazed that after using a separate strainer for so many years,this seemed so easy to strain! The strainer worked perfectly keeping away my tea bags and the spices. The other great feature are the pouring spouts on both sides that make pouring totally mess and spill free! I didn't have to reach out to my kitchen towel to wipe off any mess. Cleaning is hassle free, since its also dishwasher safe!
You have to keep in mind though that the strainer is not meant for loose tea or small particles. I can see myself using this every day
I also received their gorgeous
Yin Yang Storage Bin Set
for reviewing this Teapan. Thank you so much Gitadini for sending me your beautiful products!!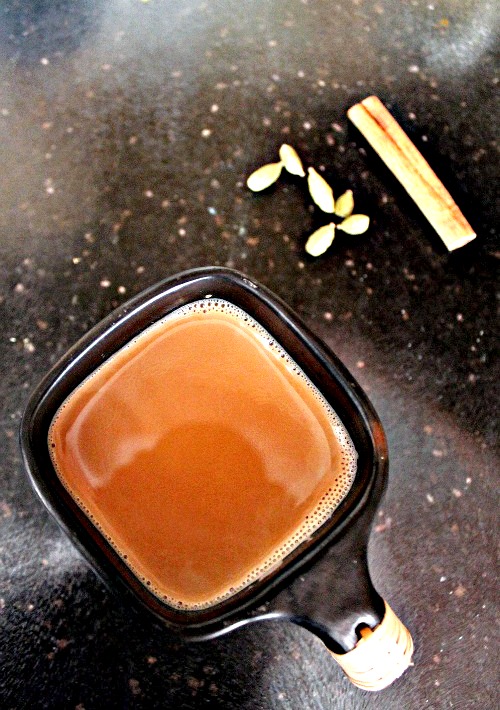 My Masala Chai is extremely easy to make. In India I used to wake up to the fragrance of sweet cinnamon and ginger every morning that went in our Chai! The spices along with the ginger is brought to a boil and slowly simmered for some time, so that the flavors develop before you add the tea. Once the tea is added let it boil for a few more minutes, until you see the desired color that you prefer. Once ready just strain and enjoy! I prefer Yellow Label Tea due to its mild flavor and subtle taste. I get mine from my Indian Grocer. You could use any brand that you prefer.
Delicious Masala Chai Tea to warm you up with aromatic spices and ginger!
Water-1 cup

Milk 2%-1 cup

Fresh Ginger-1/2 inch (peeled and roughly crushed)

Cinnamon-1/2 inch

Green Cardamom Pods-3

Lipton Yellow Label Tea Bags-2

Sweetener or Sugar (if preferred).
Pour the water along with ginger,cardamom and cinnamon stick in a Teapan.

Let it boil for about 4-5 minutes.

Add milk and tea bags and let it boil for another 2 minutes or until you see the desired color of your tea.

Turn off the heat. Strain the Tea into cups.

Add sweetener/sugar if required. I prefer mine without any.

Enjoy!